Service Booking and Billing Software
This is a Service Booking and Billing platform that can be used in any type of Service booking, in any type of Companies, Startups, Salon booking, Doctor appointment, Lawyer appointment, Personal needs and in any kind of service/appointment booking. You can track you daily work schedule, expenses, notes, work orders, quotation, appointment, billing in a single platform. We keep updating with new features time to time.
Awesome Features:
Dynamic service listing with price
Appointment [Service] booking platform with consult date and booking date
SMS and email notification for appointment booking
SMS and email notification for appointment booking reminder
Manage Work schedule with timeline, client wise
Assign any work to any of your employee
Manage office and personal expense
Manage day to day notes
Prepare quotation for any client
Prepare work order for any work
Maintain inquiry through inquiry booking form
Manage client list, view client booking if exist
Manage employee list with login feature
See live booking on calendar
See work schedule on calendar
Make invoice with this platform
Print work order, quotation & invoices
Import/Export expense
Export work schedule and notes
Book any kind of appointment for any kind of service
Search your daily expense date wise, expense type wise and expense item wise
Search your daily work schedule date wise, client wise, employee wise, work type wise and work status wise
More features that helps your business grow
Software specification:
Asp.Net, C#, SQL Server, HTML, CSS, JavaScript, Ajax
Note: This is a single domain licensed software. Mail us your purchase code and domain name after purchasing this product. We will activate the license for you.
What you will get:
Compiled software code (Share domain name before installation)
Database script
For Full Source Code & Installer Software please contact at +91-7838627939 or mail us at info@laysantechnologies.com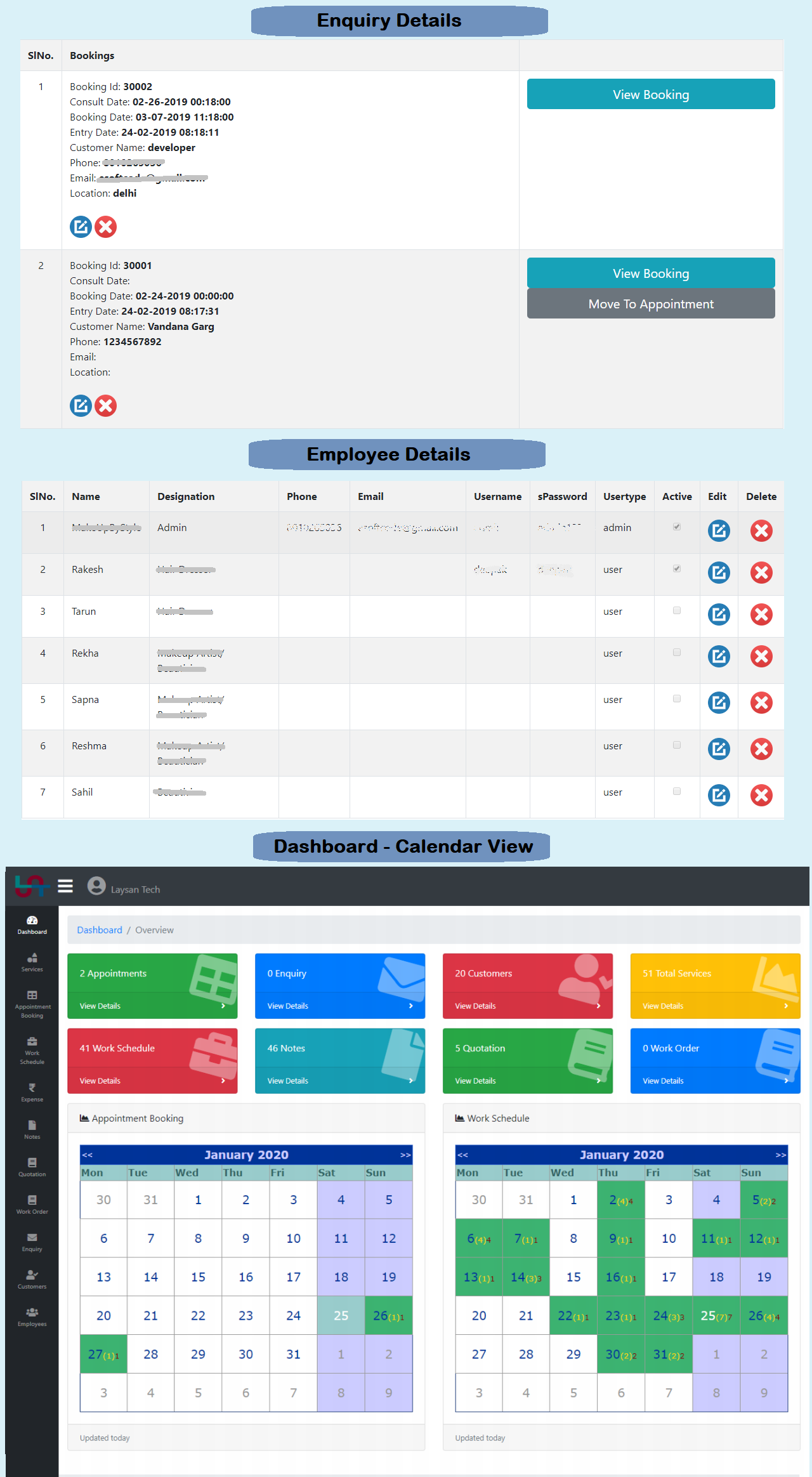 We are extremely proud of our support and are available to help you at anytime.
Report This Item
Please sign in to report this item.